Thank goodness for Google, where you can just search for Pitching Drills and find a site like this where there are tons of free pitching drills compiled for you to use and steal for yourself!
Below, I've organized 18 of the best baseball pitching drills, from my most favorite pitching drill (#1), to my least favorite pitching drill (#13).
These pitching drills can help you  fix some of the most common problems pitchers have with their pitching mechanics.
The way I look at it is, we are the doctor and if our mechanics get sick, we need to know the right medicine to give them. This medicine is the pitching drills. With that being said, here are the best baseball pitching drills that you can use to be a better pitcher.
#1 – The 2 Best Baseball Pitching Drills
Ok, so I know this whole page has the best baseball pitching drills on it, but out of this whole page, these are my two most favorite drills. The first is the wall drill and the second is the rocker drill. The second drill in this video is the same as Stevie's favorite pitching drill that you'll see below, but I go into a little further detail on how to perform this pitching drill correctly in this video. Check it out!
#2 – Pitching Drills for Accuracy
Do you really need to do pitching drills to get better accuracy? In this baseball pitching drills video I suggest otherwise and offer 4 tips to become more accurate in your pitching. This is a good one, although there aren't any "real" drills in it!
#3 – The Back Pedal Drill
The Back Pedal Drill is a form of the Run and Gun Pitching Drill where you learn to use momentum and working from closed to open is a fast manner.  This drill is one of the best baseball pitching drills to increase pitching speed.  Watch the video to learn more.
#4 – The Broomstick Curveball Drill
I learned this pitching drill from Coach Scott Birchler who was a high school coach at our rival high school but as I got older and made the transition from player to coach, he helped me a lot. This pitching drill that he taught me is great for any pitcher who wants to be more consistent with their curveball or slider and fixes two of the biggest problems in guys who throw these pitches, dropping that elbow and not finishing the pitch.
#5 – Arm Action Pitching Drills
Here are some arm action pitching drills to get the feel of how the arms work in the pitching delivery. These drills are great to get the arms loose and free flowing and build a consistent arm path.  Watch the video for more info.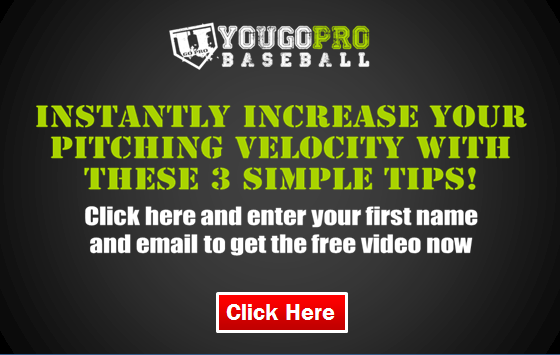 #6 – The Net Pitching Drill
For this pitching drill you don't necessarily need a net. You can use a wall or another person. But the idea is to have something behind the pitcher that will let the pitcher know if he has broken his hands too early or is not gaining enough ground going forward. This is a great pitching drill if done correctly and will promote torque as well as linear momentum. Check the vid for more of an explanation!
#7 – King of the Hill Drill
In this video I answer some questions about the King of the Hill Pitcher's Trainer, one of which was "what type of pitching drills can you do on the King of the Hill?".  If you like the King of the Hill, and I definitely suggest this product for pitchers of all ages, then you can check it out at King of the Hill.  I really love this product because it teaches pitchers how to properly and efficiently get the most energy out of their legs.
#8 – The Football Pitching Drill
Throwing the Football can be used as a pitching drill.  In fact, there are a few weighted ball programs out there these days.  This could be used as a weighted implement to help get your arm stronger and to throw faster.  Just make sure you don't over due it.  Remember, throw count is important even if you're not throwing a baseball.
#9 – The Hop Back Pitching Drill
The Hop Back Pitching Drill is another baseball pitching drill that helps pitchers learn how to use their legs and create good angles.  To perform this drill correctly, the pitcher has to learn how to stay inside of his back foot which is an important part of the beginning of the pitching delivery.
#10 – The 2 Ball Curveball Drill
In this video I share with you how to make a tool that you can use to work on your curve.  What you do is screw two baseballs together.  For the pitching drill you want to throw the balls in a way that they rotate tightly end over end on the axis in which you are trying to get your break.  This tool and pitching drill can dramatically improve your curveball.
#11 – Pitcher's Balance Beam Drills
In order to do this pitching drill you're going to need to build a pitcher's balance beam.  All you are trying to do with this baseball pitching drill is to be consistent with your alignment and work on controlling your body down the mound.
#12 – The Follow Through Drill
In this video I show you a pitching drill that you can do if you need to work on your follow through when pitching.  This pitching drill is great for pitchers who "walk through" and have too soft of a front side.
#13 – The Bucket Pitching Drill
This is one of those baseball pitching drills for younger pitchers where they need to work on getting their front leg up a little higher on their leg lift.  Height on the leg lift is not as important as getting a good load, but some younger pitchers need to feel this height in order to get the first of three steps in a good leg lift.
#14 – The Hips Drill
I didn't add this into one of the original 13 best baseball drills only because I already mentioned it above.  This is in the first video where I share my two favorite baseball pitching drills.  But I figured I post this video too because I explain it in a little different of a way.  So, if it helps someone understand a little better, then good.  That's what I'm here for 😉
#15 – MLB Pitcher Stevie Delabar's Favorite Pitching Drill
Stevie was my roommate/teammate for a few years in Minor League Baseball so when he made it to the MLB, I got to interview him. One of the questions I asked Stevie was, "what is your favorite pitching drill?". Here is Stevie's answer and then a quick demonstration of the pitching drill. By the way, Stevie was a 2013 MLB All-Star!
#16, 17, and 18 is coming soon, so check back.
I hope you enjoyed and learned something from this compilation of the best baseball pitching drills.  I suggest that if you haven't already, check out my Pitching Mechanics page.  It's where I break down a lot of the proper mechanics in the pitching delivery.  You should also check out my pitching program if you're interested in throwing faster and more accurate.